M.A. in Public Policy
O.P. Jindal Global University (MA PP)
INR 450,000 / $6,000 USD
Accredited degree
Offered by O.P. Jindal Global University
24-36 months
16 courses, estimated 10 hours a week
100% online
Hands-on learning from anywhere, no travel required
Taught in English
Engage in group discussions with professors and peers
Advance your career and find solutions to public policy challenges in the contemporary world with a fully online programme
As a learner in this Master of Arts – Public Policy degree programme, you'll master the skills to build a successful career in the complex public policy sector. Through an interdisciplinary approach and a special focus on developing economies, you'll develop the ability to analyse contemporary political, economic, social, and environmental issues with India's #1 University in Social Sciences, Arts & Humanities (QS University Rankings, 2022).
In this programme, you'll have the opportunity to choose courses and topics that align with your unique learning and career goals and develop expertise in the areas that are most relevant to your path. Elective options include Economic Policy, Energy, Climate, Analytical Techniques, Health, and more.
The programme is offered by the Jindal School of Government and Public Policy​ (JSGP) at O.P. Jindal Global University. For over a decade, JSGP has been teaching the Masters in Public Policy programme on-campus, and as a student in the online counterpart, you'll benefit from the best practices and pedagogies they've developed as leaders in this field. JGU programmes are accredited by National Assessment and Accreditation Council and recognised by the University Grants Commission of India.
As a graduate of the Jindal School of Government and Public Policy (JSGP), you'll be prepared to pursue development and policymaking roles in government, civil services, CSR groups, academia, think tanks, NGOs, media, political organisations, and more.
What makes this Master's degree unique?
Capstone Project - Gain real-world policymaking experience
You'll learn through capstone projects that encourage the practical application of theoretical learnings. Every student is assigned a faculty mentor that will provide supervision of your research project. Jindal School of Government and Public Policy is one of the first public policy schools in India to offer its students the opportunity to work on a capstone project.
Build competency in public and private sectors
In this programme, you'll build the skills to undertake policy analysis, policy formulation, monitoring, and assessment. With this skill set, you'll be prepared to pursue career opportunities in both public and corporate careers and be ideally positioned for greater responsibilities in policy making and leadership roles.
Learn from both academic experts and policy practitioners
Programme faculties have served as academics, researchers, and policy practitioners with renowned organizations such as the United Nations, the Ford Foundation, the Commonwealth Secretariat, the International Labour Organization, and the World Bank. You will have an opportunity to interact live with these experts throughout your time in the programme.
Earn your degree without any background in public policy or social sciences
This degree programme encourages candidates from diverse backgrounds to apply. You'll only require an undergraduate degree (in any field or specialisation) from a recognised university in India or abroad.
Click here to download brochure
Last date to submit your application: February 28, 2023
---
Classes start on: 1st March, 2023
---
Click on 'Apply Now' to start your application or 'Request more info' to know more about the programme.
Have questions? please contact online@jgu.edu.in.
Want to learn more?
Hear from our learners
"The calibrated combination of webinar series, online course materials, and faculty live sessions are well tuned to enhance learners' experience."
Events
Applications for O.P. Jindal Global University are now open
Early submission deadline
Final submission deadline
Classes start for the cohort.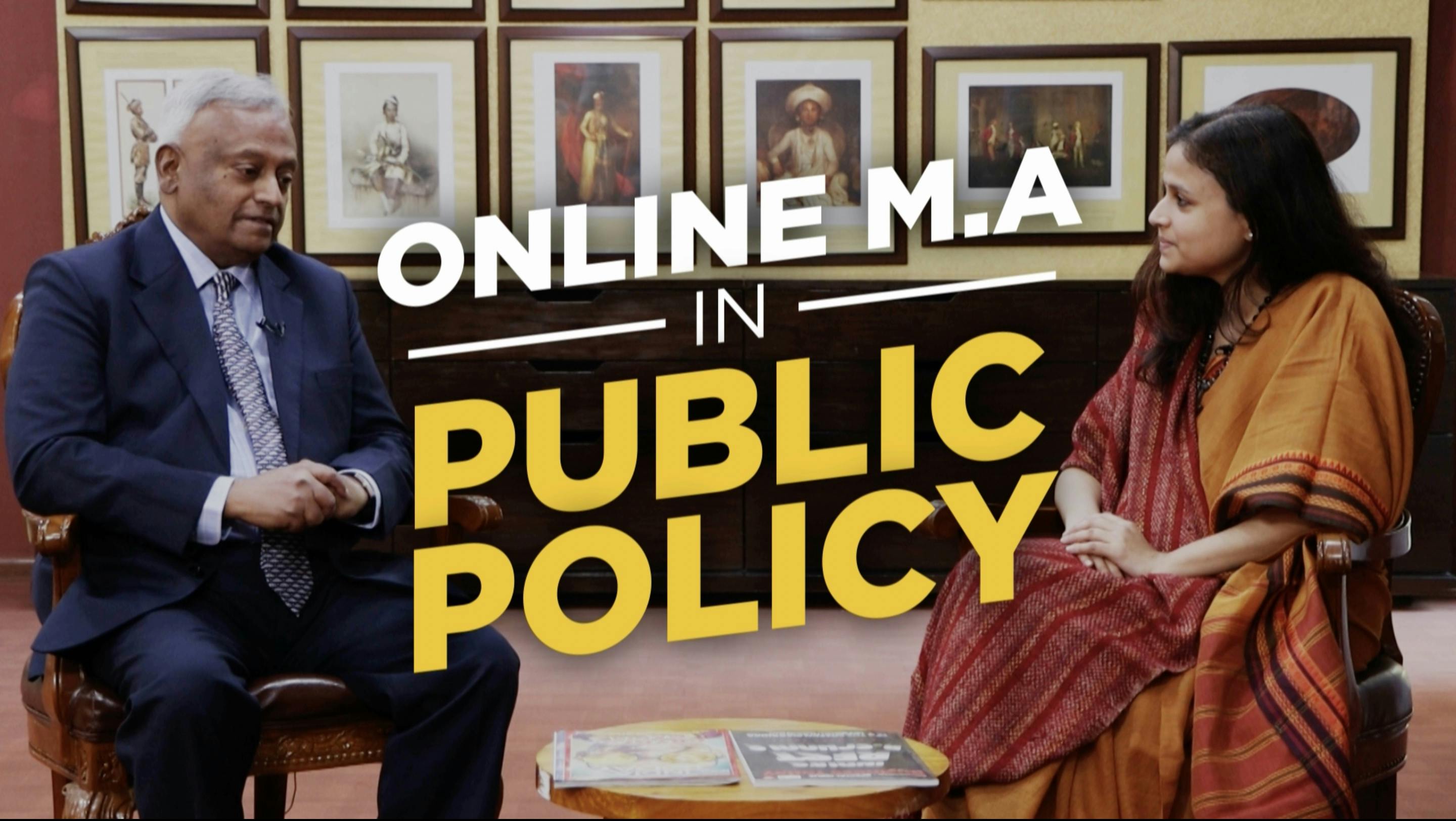 Importance of Public Policy practitioners
M.A. Public Policy programme equips students to perform effectively in complex policy environments. It is interdisciplinary in approach and enables students to address contemporary political, economic and social issues in a coherent and comprehensive manner. This programme imparts a strong training, in theory, covering key literature and debates. Students develop quantitative and qualitative analytical skills, receive an exposure to the real-world policy making process, and enhance their managerial skills.
Frequently Asked Questions
Coursera does not grant credit, and does not represent that any institution other than the degree granting institution will recognize the credit or credential awarded by the institution; the decision to grant, accept, or transfer credit is subject to the sole and absolute discretion of an educational institution.
We encourage you to investigate whether this degree meets your academic and/or professional needs before applying.