Global Master of Public Health (GMPH)
Imperial College London
Student Experience
The Coursera learners who are earning their Global Master of Public Health (GMPH) from Imperial College London come from a wide array of backgrounds, locations, and experiences. Despite these differences, however, they are united by their passion for learning, their commitment to achieving their career goals, and their desire to make a positive impact in the world.
Choosing to enroll in a world-class degree programme is a tremendous step forward on your learning and career journey, but while you're sure to be excited, it might also feel a bit like a step into the unknown. So we'd like to introduce you to some real-life GMPH students who can share insights about their backgrounds, reasons for joining this programme, and future career plans.
We recently posed some questions to students Sue Meier, Roki Seydi, and Bharath Sundar, and you can explore their responses below.
Please tell us a bit about yourself, your background, and your work and learning experiences prior to enrolling in this programme.
Sue Meier: I live just outside Chapel Hill, North Carolina, on a small horse farm with my husband John. Our three children are all grown up now and they've married and have left the nest. I've earned bachelor's degrees in economics, political science, and nursing, and I have earned master's and doctorate degrees in neonatal nursing. I currently work as a neonatal intensive care nurse practitioner in the neonatal critical care unit at University of North Carolina Children's hospital and have served as the leader of the neonatal nurse practitioner team since 2000. I recently completed the GlobalOne Masters in Business Administration (MBA) at the University of North Carolina Kenan-Flagler school of business, and am currently working on my Global Master of Public Health at Imperial College London on Coursera.
Roki Seydi: I graduated from King's College London with a degree in Global Health and Social Medicine, and afterwards I completed a course in software development, which is what I do now. I am currently working for a health-tech start up at the intersection of these two fields, where I programme and create digital health applications backed by sound public health research.
Bharath Sundar: I am from the city of Chennai in Southern India. I completed my bachelor's in electrical and electronics engineering from India in 2008, and since then I have done various jobs, from working to integrate GPS chips into off-market digital cameras, to being a finance director with eBay, where I was responsible for financial planning and analysis for all international operations. In 2019, I decided to devote more time to areas closer to my heart. After many discussions with friends and colleagues who worked in NGOs and in the government, I realized my interests in public health. I recognized I needed further education to understand the field, create my networks, and explore. That is when I decided to pursue my master's and found Imperial's offering on Coursera.
What motivated you to choose this specific course as opposed to studying elsewhere?
Sue Meier: It was difficult for me to choose between studying at my home institution, University of Chapel Hill, Gillings School of Public Health, or Imperial College London. I ultimately chose Imperial College to enhance the global aspect of my MPH training and am so glad that I did. I am eager to pivot my career from local intensive care to global public health, whilst continuing to focus on maternal and infant health.
Roki Seydi: I chose this course because I was intrigued by the interesting and exciting array of modules encompassing all aspects of public health - from machine learning to medical anthropology - which ultimately convinced me to decline a full scholarship to study public health elsewhere and accept the offer from Imperial.
Bharath Sundar: Factors included flexibility through the online environment, studying in English, a favorable time zone to where I am based (Switzerland), and the fact that live classes through Zoom were part of the curriculum (I come from a non-health background and I needed access and frequent connection with people and professors). And of course, Imperial College London is well renowned.
What are your plans for after you earn your degree?
Sue Meier: I am eager to pivot my career from delivering local neonatal intensive patient care in the United States, to providing global public health primary care abroad, while continuing to focus on maternal and infant health. I am actively seeking opportunities to do so, and I feel extremely well-prepared to begin a career in public health after having nearly completed the Imperial College London Global Master of Public Health training program. I have learned all the core skills required for entry into the profession. And, I have been provided a wealth of resources, references, networks, and contacts to support me in public health practice. I am not certain exactly what my next career opportunity will be just yet, but am looking forward to it nonetheless.
Roki Seydi: After my degree I would like to continue to work at the intersection of healthcare and technology. I would like to contribute towards the creation of health products and services with a strong scientific foundation, and also start an entrepreneurial journey around healthcare innovation.
Bharath Sundar: I have already begun a job in the NGO sector working on global public health projects in Central Africa and South Asia. I am a program officer for FAIRMED, an NGO based in Bern, Switzerland. It is an international public health and development NGO working with a mandate of health for the poorest. My portfolio in FAIRMED includes responsibility for projects in Nepal and Sri Lanka, and I am also the lead for our global Monitoring, Evaluation and Learning (MEAL) workstream.
---
We're grateful to these learners for their dedication to solving global health challenges, and we hope their insights are beneficial as you prepare to take this incredible leap forward in your life and career.
The Coursera Platform
The Global Master of Public Health programme is delivered as a fully online degree, via Coursera. This online Master's of Public Health programme has comparable learning outcomes and results to the current on-campus MPH programme.
As an established and global learning provider, Coursera uses high-touch and innovative techniques to provide a top notch educational experience. Teaching and learning on the programme will be delivered through the Coursera platform using a range of methods including:
pre-recorded lectures and video capture
slide-decks with audio commentary
practical exercises in coding and analysis
asynchronous peer-to-peer and staff-moderated discussion forums
synchronous scheduled live tutorials
discussion forums and office hours
discussion prompts
The assessment methods, also delivered through the Coursera platform, include:
online quizzes
video blogs
case study review discussions
coding exercises
Students learn as a cohort through discussion boards (which can be used as assessment through graded discussion prompts) and peer assessed exercises. These features, ranging from live classroom sessions to group peer sessions, allow each student to participate in an interactive, supportive, and engaging experience and ensure the highest quality online learning environment.
View the Welcome Booklet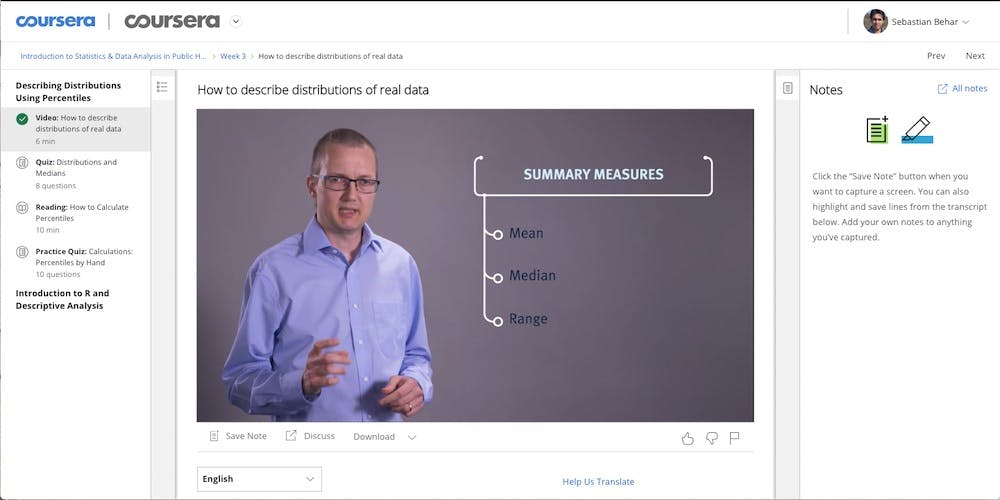 Lectures
Lectures are organized into weekly modules, which can be absorbed via video playback or interactive transcript. Pace yourself through online lectures before meeting with the teaching team and your classmates to dive deeper into the material.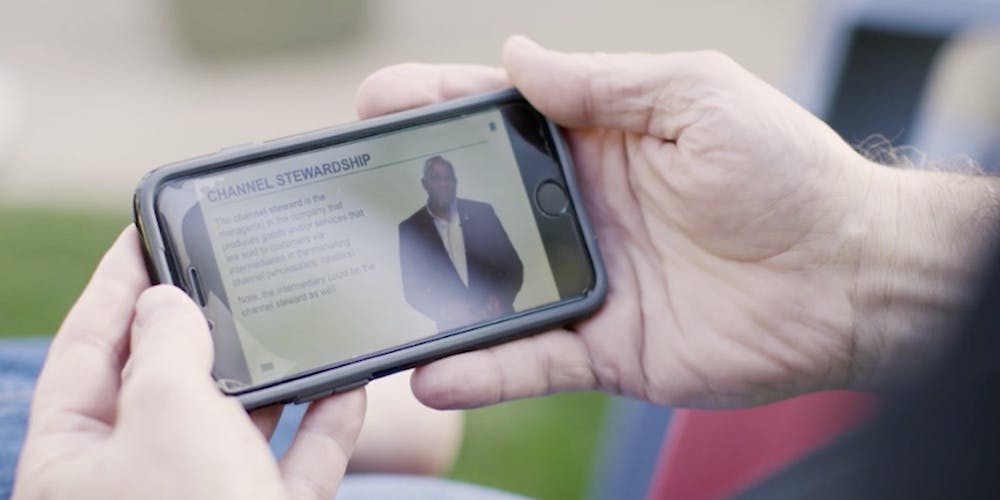 Mobile
Access your courses from anywhere — you can even download them to your mobile device and study offline without using your data plan.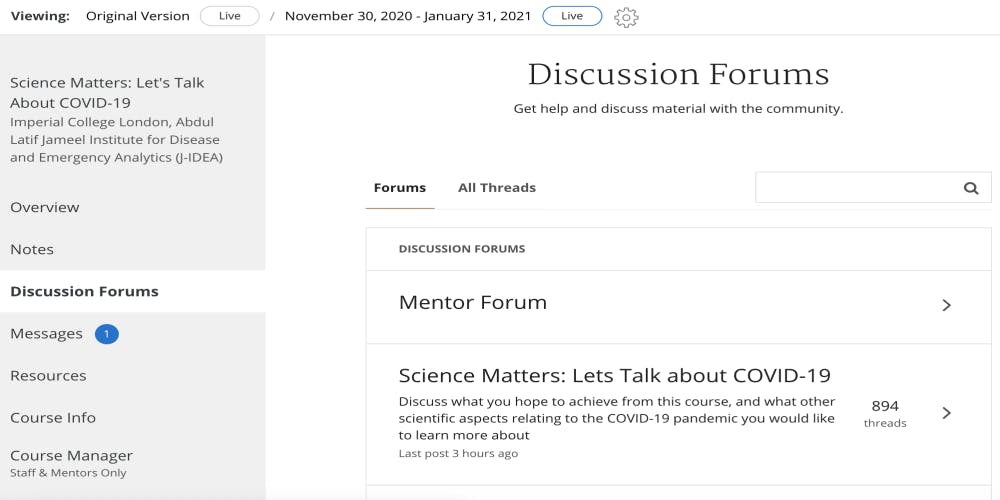 Forums
Interact with fellow students through course discussion forums. Get access to every question asked and answered by previous students.
Coursera does not grant credit, and does not represent that any institution other than the degree granting institution will recognize the credit or credential awarded by the institution; the decision to grant, accept, or transfer credit is subject to the sole and absolute discretion of an educational institution.