Bachelor of Science in Computer Science
Birla Institute of Technology & Science, Pilani
Bachelor's degree
Offered by Birla Institute of Technology and Science, Pilani
INR 3.1 Lakh / USD 4,000 to USD 6,000 total cost
3 - 6 years
30 courses, 2 projects, 25 hours per week.
100% online
Hands-on learning from anywhere. Online classes. No offline examinations.
Taught in English
Engage in group discussions with faculty and classmates.
Prepare for a rewarding career in tech with a Computer Science degree from one of the world's leading engineering institutions. BITS Pilani is the alma mater to successful founders, entrepreneurs, and Fortune 500 leaders.
Learn job-relevant computer science skills from a highly regarded university
Computer science programmes from BITS Pilani are highly regarded across the industry. Faculty at BITS Pilani consistently engages with multiple corporate partners to design an industry ready curriculum, and as you advance through the programme, you'll develop job-ready skills through working on multiple industry projects.
Enjoy maximum flexibility with a 100% online programme
This degree programme is delivered entirely online to enable you to learn at your own pace. There is no attendance criteria or offline examination. To ensure academic rigour, you will have regular online assessments and opportunities to interact with the faculty from BITS Pilani via live discussions and question-and-answer sessions.
Earn a credential at every milestone
You'll have the opportunity to convert your earned credits into a credential at regular intervals. You will have an option to exit with a diploma at the end of Year Two, a bachelor's degree at the end of Year Three or opt for an additional year to earn an honours degree at the end of Year Four.
Benefit from open eligibility criteria
Your prior education will not restrict your eligibility for this programme. You can apply even without a prior background in Science or Mathematics. Applicants from Commerce or Social Science backgrounds can also apply.
---
More about the programme:
This bachelor's degree in Computer Science is designed and delivered by BITS Pilani and is exclusively available on Coursera.
BITS Pilani is one of only ten private universities recognised as an Institute of Eminence by the Ministry of Education, Government of India.
As a student in this programme, you'll gain hands-on experience and develop in-demand technical skills like Machine Learning, Data Structures, Algorithms, Human Computer Interaction and Web / App Development, as well as workplace skills such as leadership, problem-solving, and communication.
By earning your degree from a Tier 1 university in IT and engineering, you can enhance your hireability, expand your career opportunities across academia and industry, and prepare for success in roles such as Software Engineer, Data Analyst, Full-stack Developer, Systems Engineer and more.
You'll join a global community of learners who share your career goals and enjoy multiple avenues to interact, collaborate, and network with your peers both in and outside the classroom.
This is a completely online degree that can be completed in three to six years. You'll access both live and recorded lectures, benefit from opportunities to get your programme questions answered, and engage in online examinations as you learn at your own pace.
Throughout the programme, you'll experience a high level of academic rigour through continuous evaluations that will help ensure you'll be able to learn and perform at par with the excellence of a BITS Pilani student.
Upon graduating from this programme, you will join an exclusive network of over 1,65,000 BITS alums consisting of successful entrepreneurs, industry leaders, engineers, scientists, and academics.
This programme is offered twice a year in July and January. Applications for July cohort are now open.
Click here to download brochure
April 5, 2023: Admissions webinar with faculty | Click here to register
April 10, 2023: Q&A: Mathematics Qualifier | Click here to register
---
The next deadline to apply is 3 April, 2023
Benefits of applying earlier:
Adequate time submit all application documents
Get an early decision from the Admissions team on your application
Exclusive access to 4000+ top courses on Coursera upon enrolment
Classes start 15 July, 2023
---
If you have questions, please email us at admissions@online.bits-pilani.ac.in
---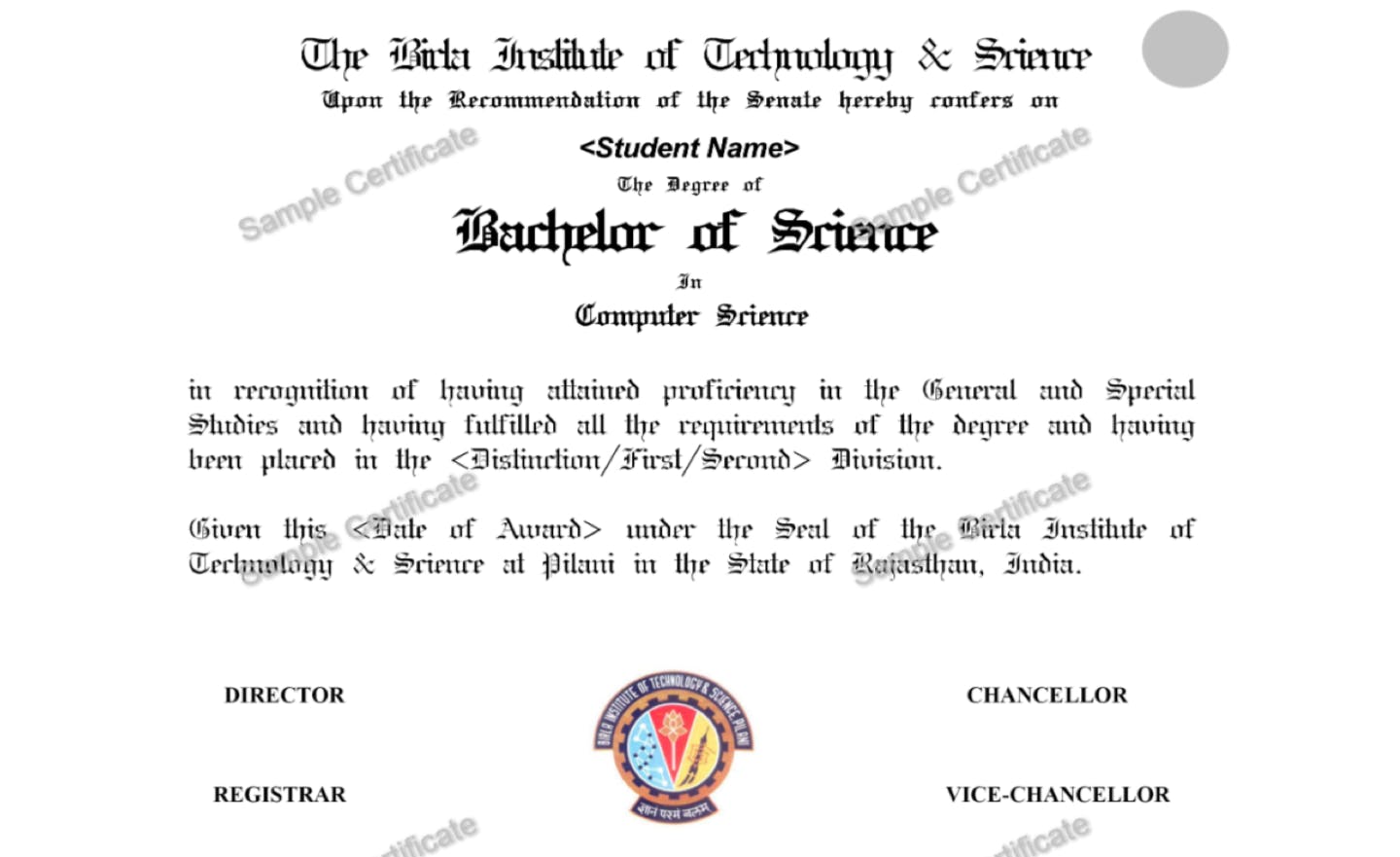 What does the degree certificate look like?
Upon successful completion of the 3 year Bachelor of Science in Computer Science programme, you will receive a Bachelors degree issued by Birla Institute of Technology and Science. The opposite side of the degree certificate will also mention Mode of Delivery, Date of admission and Date of completion.
Events
Upcoming application deadline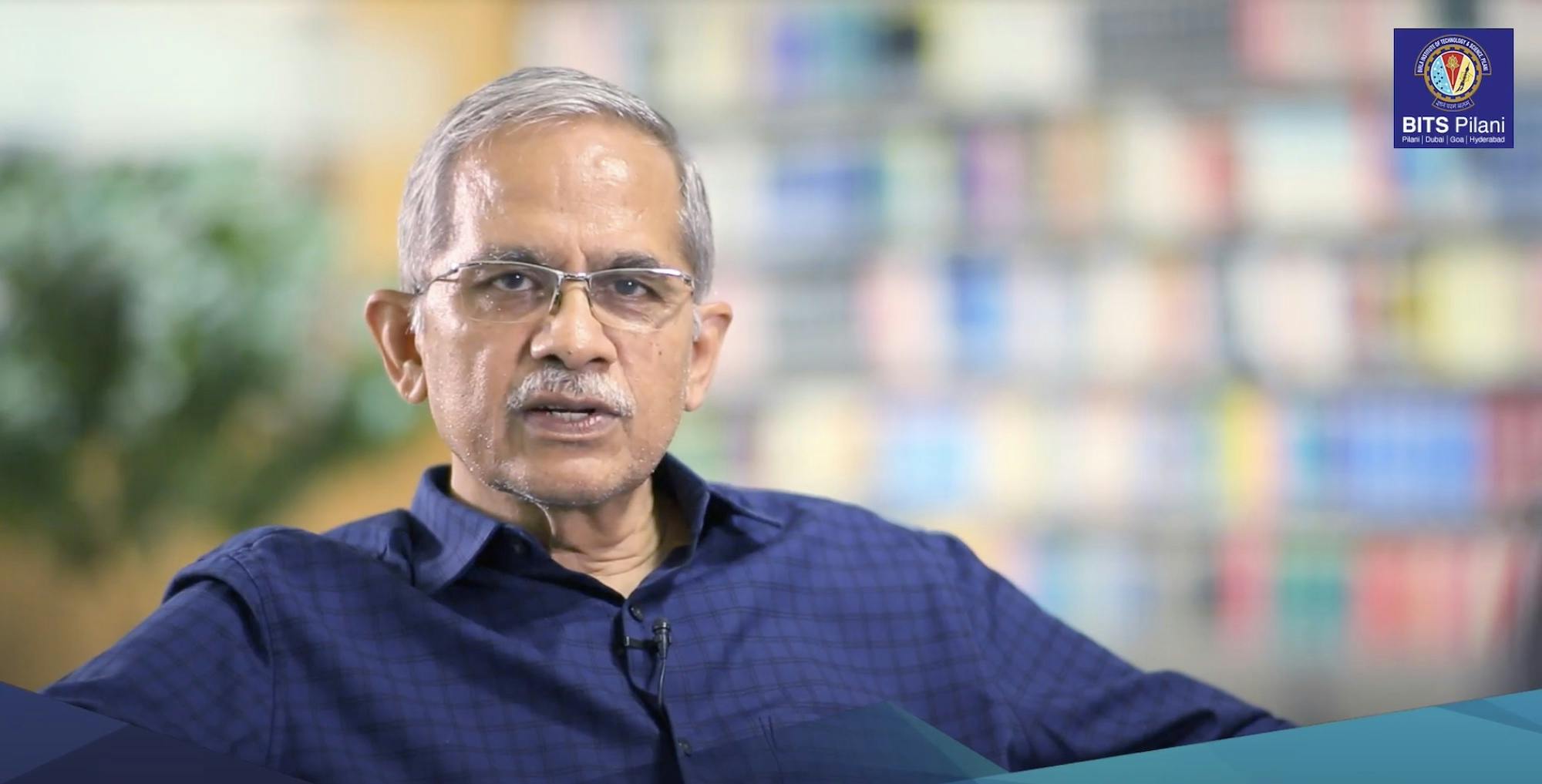 Equip yourself for a career in Computer Science & IT
Today, there is a global IT skill shortage, where many organisations are struggling to find the right talent. With new technologies continuing to emerge, the demand for skilled technology professionals continues to increase.
As a graduate of this programme, you'll have the skills and experience to take advantage of this demand. You'll have maximum flexibility to achieve the right work-life balance for your goals, and the straightforward eligibility criteria and simple admissions process make it easy for you to quickly and easily start learning.
Frequently Asked Questions
Coursera does not grant credit, and does not represent that any institution other than the degree granting institution will recognize the credit or credential awarded by the institution; the decision to grant, accept, or transfer credit is subject to the sole and absolute discretion of an educational institution.
We encourage you to investigate whether this degree meets your academic and/or professional needs before applying.