Bachelor of Science in General Business
University of North Texas
Accredited diploma
Offered by University of North Texas
45 credit maximum
Applicants must have 45 or fewer transferable credits.
4 years
18+ hours of study/wk per course
100% online
Hands-on learning from anywhere, no travel required
$330 USD/ credit hour for most
Pursue a foundational business education with an emphasis on the development of real-world job skills in a flexible, hands-on program from an established leader in business learning.
Over the course of this program, you'll prepare for your career by establishing a well-rounded understanding of all key areas of business, including economics, accounting, finance, business analytics, information systems, management, and marketing. You can also discover paid internship opportunities facilitated and supervised by UNT, or you can choose to bring in your own. And, through management and marketing courses, you'll set yourself up for success in two high-demand areas of business. Given UNT's 130-year history and its 75-years of experience in business education, you're assured of receiving a world-class grounding in essential business skills.
Accredited by the Association to Advance Collegiate Schools of Business (AACSB) this business degree is intended for students with 45 or fewer transferable credit hours.
What makes this degree unique?
Gain an ideal mix of theoretical and applied skills. Combine theoretical concepts and practical applications across all areas of business—with special emphasis on management and marketing. You'll engage in interactive group projects to refine your cross-functional collaboration ability. And, upon your graduation, you'll have a strong credential showing you can perform a variety of professional roles.
Learn from faculty with decades of experience. Study with instructors who have advanced business-related degrees and substantial corporate backgrounds at leading global institutions. You can expect a world-class business education and a first-rate online experience because UNT ranks highly for many disciplines like accounting, management, and entrepreneurship.
Cultivate skills highly sought by companies. Hundreds of companies recruit UNT graduates every year as they seek employees with the right combination of theoretical and applied skills, and who possess both critical thinking and communication skills. As a graduate of this program, you'll be ideally positioned to pursue new roles in your field.
Prepare for advanced graduate-level programs. MBA programs often look for students with a strong background in a broad range of business course work. Through this program, you will achieve foundational knowledge in many areas of business including finance, business law, business analytics, information systems, and business communications, as well as marketing and management. Students interested in continuing their studies through UNT's MBA program may be able to earn their graduate degree in just 36 credit hours instead of 48 credit hours.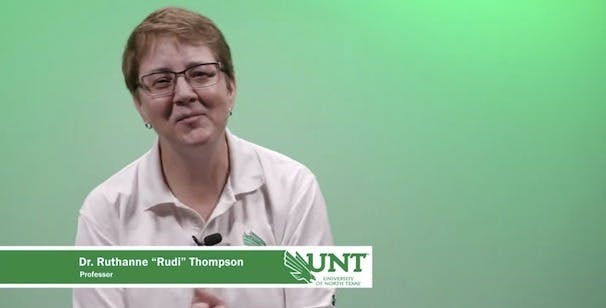 Wondering if the BSGB is a good fit for you?
You can preview the learning experience by taking a stand-alone course from the University of North Texas. In Research Design: Inquiry and Discovery, you will learn about the essential skill of asking good questions. The course covers topics like the basis of human curiosity, development of questions, connections between questions and approaches to information gathering design, the differences between experimental and non-experimental designs, data analysis, and the ethics of inquiry projects. In Contemporary Biology, you will be introduced to biology as it applies to your everyday life. You will explore the interplay between science and self through a personalized case study of yourself and your environment.
Learn more
Frequently Asked Questions
Coursera does not grant credit, and does not represent that any institution other than the degree granting institution will recognize the credit or credential awarded by the institution; the decision to grant, accept, or transfer credit is subject to the sole and absolute discretion of an educational institution.
We encourage you to investigate whether this degree meets your academic and/or professional needs before applying.