Postgraduate Certificate of Public Health
Imperial College London
Recognised qualification
Offered by Imperial College London
Taught in English
Engage in group discussions with professors and peers
12 months
6 courses total, 14 - 16 hours per week
100% online
Hands-on learning from anywhere, no travel required
£7,025 or £11,600* total cost
Develop a strong foundation in the principles of public health from leading experts at Imperial College London who are shaping global policy.
The global COVID-19 pandemic has highlighted the enormous impact that public health expertise can make in protecting populations and individuals. Awarded University of the Year 2022 for its response to the pandemic (The Times and Sunday Times Good University Guide), Imperial College London is committed to improving public health for people throughout the world. In this 12-month Public Health Postgraduate Certificate programme, you'll have the opportunity to gain the skills necessary to launch or advance your public health career and help make a safer, healthier world for everyone. Imperial has recently been recognised as having a greater proportion of 4* "world-leading" research than any other UK university and ranks top in the UK overall, according to the Research Excellence Framework (REF) 2021.
Through a mixture of core and elective Specializations, you'll learn job-relevant skills from public health experts and will be able to earn a valuable postgraduate credential from one of the world's most highly regarded institutions without the financial or time commitments of a full master's degree programme. Deepen your expertise in distinct subject areas such as Epidemiology, Statistics, or Foundations of Public Health Practice while achieving work-life balance through this 100% online, part-time remote learning programme.
Following successful completion of the Postgraduate Certificate, you can choose whether to progress to the Postgraduate Diploma or the Master's programme. Provided you meet academic progression requirements, you won't need to re-apply.
What makes this PH certificate unique?
Evidence-based, research-driven approach: In this programme, learners have the opportunity to gain a certificate in public health from a world-renowned research institute in just 12 months. Graduates can then choose to start a new career in public health or take their existing role to the next level.

Immersive, interactive learning experience: Each Specialization on the Postgraduate Certificate is delivered by a team of public health experts from a diverse range of backgrounds—such as clinicians, researchers, policy makers, biomedical scientists, and health economists. You'll benefit from an innovative and comprehensive public health curriculum, which reflects the most recent developments in public health — including unique research discoveries from Imperial College London.

Valuable career credential: Imperial College London has been ranked first for graduate employability in the Guardian University Guide 2022. Graduates from the postgraduate certificate programme will be able to showcase skills that can help advance their existing career, prepare a wide range of public health roles, or launch a new career in the field. With the knowledge you'll gain through the programme, you'll be prepared to work in a range of areas — including government institutions, non-governmental organisations, industry leaders, and consultancies.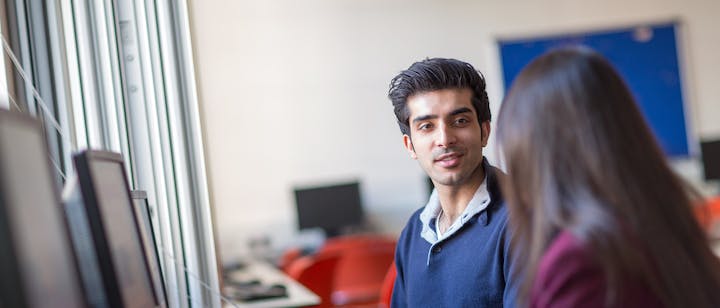 Looking for an online Master's degree instead?
The Global Master of Public Health from Imperial College London is a highly respected online Master's degree programme. Global MPH students build strong portfolios while creating projects which model the tasks they will be asked to do as they move forward in their careers, as well as having the opportunity to develop work which can be submitted to peer-reviewed journals.
Learn more about Global Master of Public Health
Frequently Asked Questions
Coursera does not grant credit, and does not represent that any institution other than the degree granting institution will recognize the credit or credential awarded by the institution; the decision to grant, accept, or transfer credit is subject to the sole and absolute discretion of an educational institution.