MBA in Business Analytics
O.P. Jindal Global University (MBA BA)
INR 4,87,500 / $6,500 USD
Accredited degree
Offered by O.P. Jindal Global University
24-36 months
80 credits, estimated 10 hours a week
100% online
Hands-on learning from anywhere, no travel required
Taught in English
Engage in group discussions with professors and peers
Build a strong cross-functional foundation in management with expertise in analytics.
In this programme, you'll build the analytical skill set necessary to advance your career in today's data-driven, analytics-focused business environment, while also developing essential management skills you can use to pivot into rewarding managerial roles.
The unique curriculum prepared by accomplished Jindal Global Business School faculty at O.P. Jindal Global University focuses on the holistic application of business analytics alongside management, marketing, finance, and more. As you advance through the programme, you'll build the expertise to pursue new roles within your organization or industry, or move into new opportunities in the technology and analytics sector.
You will also be able to establish connections with a diverse community of peers from across the globe. Learners in this program come from multiple industries and geographies—and bring with them a wide array of knowledge and experience—and you'll have ample opportunities to forge valuable relationships and grow your professional network. The last cohort had learners from more than 10 countries with work experience ranging from beginner to advanced levels.
With the skills you gain in this programme, you'll be prepared to pursue roles in a wide range of roles, including business analyst, management consultant, HR analyst, marketing analyst, supply chain analyst, risk and financial analyst, and more.
Jindal Global University (JGU) is internationally ranked and nationally recognised as an Institute of Eminence by the Ministry of Human Resource Development, Government of India. JGU programs are accredited by National Assessment and Accreditation Council and recognised by the University Grants Commission of India.
What makes this Master's degree unique?
Make data-driven decisions that drive positive business results
In this programme, you'll learn the skills and strategies to deliver critical business solutions using data. By combining analytical and managerial proficiency, you can position yourself for career success as a data-driven business leader. Learning these skills is essential to advance your career, as today's rapidly evolving and fast-paced digital economy necessitates being able to understand and solve business challenges holistically and drive growth through strategic, data-informed decision-making.
Learn at your own pace
Earn your degree while balancing your professional and personal commitments. The programme is designed to seamlessly integrate with your unique learning and career journey. With a high degree of flexibility, you're able to learn at your own pace, and as live lectures and learning sessions are recorded, you can access the material at a time that's right for your schedule. If you dedicate 9-10 hours of weekly effort to complete this degree, you can expect to complete the program in approximately 24 to 36 months.
Enrich your learning in a global classroom
As a student in this programme, you'll join a dynamic global community of learners who bring a diverse array of backgrounds and experiences to the classroom. With students joining from more than 10 different countries, you'll have a unique range of opportunities to network, collaborate, and build important professional relationships with peers from around the world. The global character of the diverse student community is reflected in the range of case studies and assignments from international businesses and brands, and Coursera's platform integrations make interactions with peers and faculty easy and enjoyable.
Build a comprehensive skill set through interactive, job-ready learning
As you engage with the program's unique curriculum, you'll develop critical thinking, decision-making, and problem-solving skills as you learn from faculty that bring industry experience, research, and theoretical knowledge to the classroom. You'll also learn in-demand skills like R Studio and Python through interactive, hands-on environments such as Coursera Labs and Guided Projects.
Last date to submit your application: February 28, 2023
---
Classes start on: 1st March, 2023
---
Click on 'Apply Now' to start your application or 'Request more info' to know more about the programme.
Have questions? please contact online@jgu.edu.in.
Want to learn more about the program?
Events
Applications for O.P. Jindal Global University are now open
Early submission deadline
Final submission deadline
Classes start for the cohort.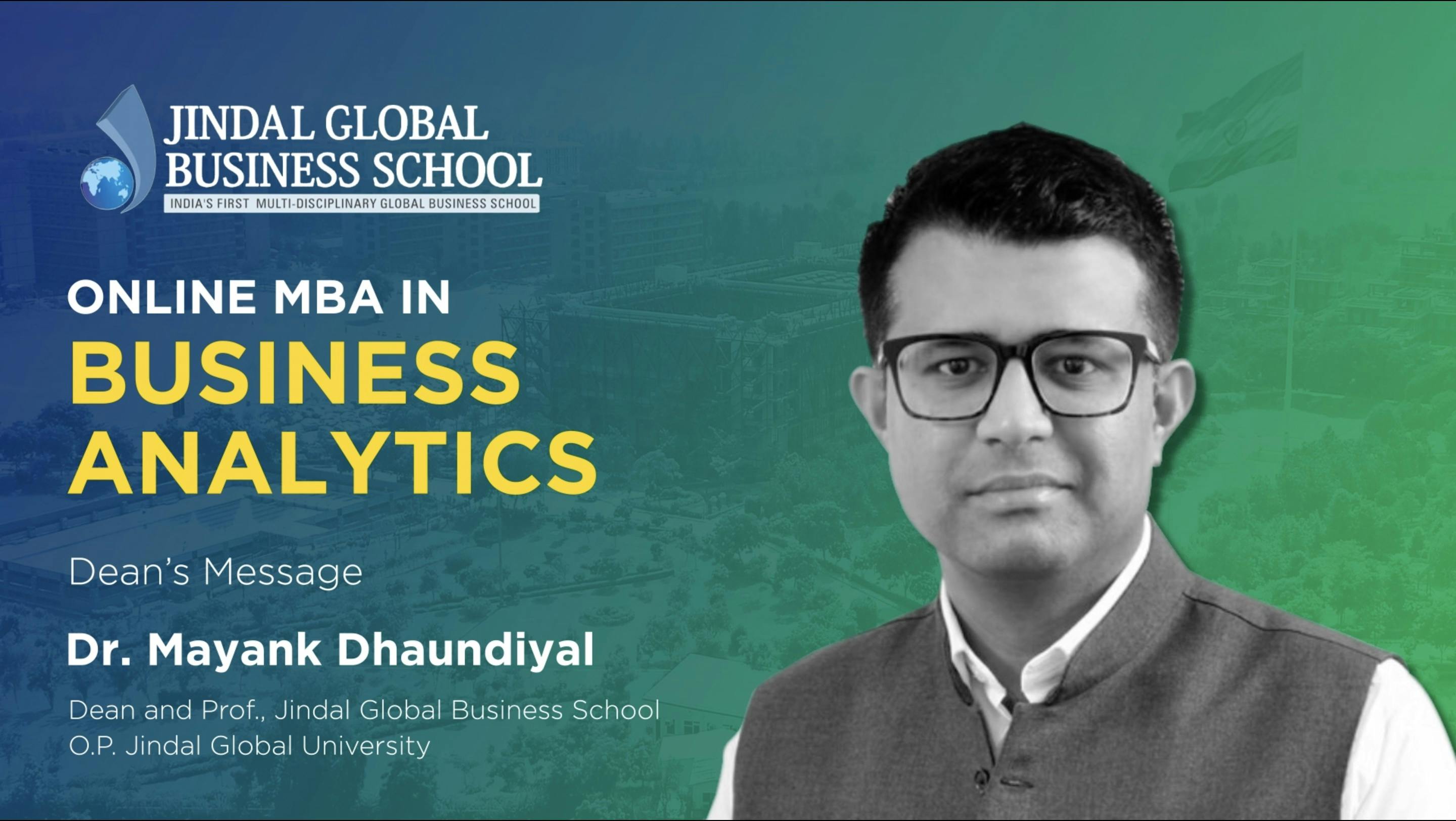 Redefining the competency of future leaders
Learn as part of a diverse cohort of global learners from some of the most experienced and reputed teachers in the domain of business management and analytics. Become acquainted with essential management concepts and analytics techniques through novel pedagogical techniques like case studies, role play, simulations, hands-on exercises, group activities, debates, and reflection.
Frequently Asked Questions
Coursera does not grant credit, and does not represent that any institution other than the degree granting institution will recognize the credit or credential awarded by the institution; the decision to grant, accept, or transfer credit is subject to the sole and absolute discretion of an educational institution.
We encourage you to investigate whether this degree meets your academic and/or professional needs before applying.